RAID Reconstructor V5.00
RAID Reconstructor
for Windows - English (22 MB)
Recover Data from a broken RAID Level 5 or 0 Array
RAID Reconstructor: Download - Buy Now
File Size: 22 MB
Price: $99 USD
Free Updates: Lifetime updates for licensed users.
Help file: View RAID.CHM online

System Requirements: Windows Server 2008, 2012, 2016, Vista, Windows 7, Windows 8, Windows 10, 32 or 64-bit. Disk controller card capable of handling all the drives in your RAID individually, and storage space for holding the reconstructed RAID.

Trial Limitation: You will be able to determine if RAID Reconstructor can reconstruct your array before you need to purchase a license. The demo version does not allow for any type of output. If RAID Reconstructor is unable to determine the parameters due to file system damage, a proprietary order, or any other number of reasons, you should use our RaidProbe service.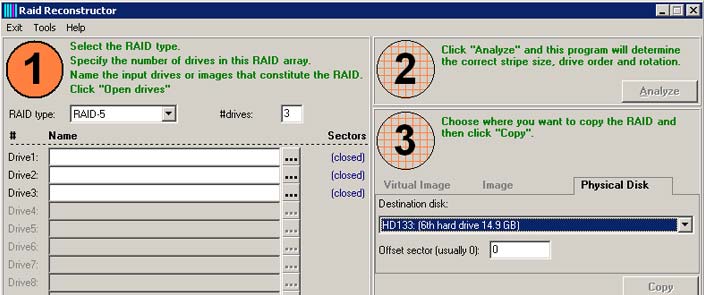 Product Highlights
Recover data from a broken RAID Array
Recovers both hardware and software RAID
Automatically finds RAID parameters
Native x64 application
Runtime's RAID Reconstructor will help you recover data from broken:
Even if you do not know the RAID parameters, such as start sector, drive order, block size and direction of rotation, RAID Reconstructor will analyze your drives and determine the correct values. You will then be able to create a copy of the reconstructed RAID in a virtual image (.vim), an image file (.img) or on a physical drive.
Unlike other products that require you to know the RAID parameters, RAID Reconstructor is not only a "destriper" but an "analyzer" as well. It finds the unknown parameters for you. View the help file online.
Once you created an image you can either mount it with Captain Nemo or use it for further data recovery processing with Runtime's GetDataBack. If you create the image on another physical drive, you can process it with Captain Nemo or GetDataBack too or you might even be able to directly boot from it.
HINT: If you want to recover a broken NAS RAID, you might be interested in our new all-in-one NAS Data Recovery software.
HINT: If you want to recover a broken Windows RAID, you might be interested in our new all-in-one RAID Recovery for Windows software.
RAID Reconstructor is safe and read-only.
It will not try to "fix" your RAID. It will merely create a copy of your RAID at another location. It will collect sector by sector from each single drive involved and write these sectors in the correct order to the designated destination. This process is also called "de-striping".
Because one drive is redundant in RAID 5, it is sufficient to have one less than the original number of drives (N) in the array. RAID Reconstructor can recalculate the original data from the N-1 drives. For a RAID-0 (striped) array you will need all drives.
The RAID Reconstructor will recover both, hardware and software RAIDs. It will recover from broken Windows Dynamic Disk sets.
Analysis Toolbox
RAID Reconstructor contains many tools you will appreciate once you need to recover data.
RaidProbe - Let us find the correct RAID parameters for you!
A RaidProbe can be taken if you do not find your RAID's correct parameters. Take advantage of our experience. If your RAID is recoverable, we will find the parameters! Read more...
Free lifetime updates
RAID Reconstructor comes with free updates for the lifetime of the software. Other than with competitors who require you to buy a new version every year, our first RAID Reconstructor customers are still enjoying the newest versions of our software!
Additional Information
Learn more about using RAID Reconstructor. Watch our YouTube tutorials:
Read our written documents:
Other RAID recovery software
If you want to recover a NAS RAID, check out our NAS Data Recovery software. If you want to recover a Windows RAID, check out our RAID Recovery for Windows software.
No working Windows?
Run RAID Reconstructor from our Runtime Live CD or a WinPE Boot Medium .