GetDataBack Pro Data Recovery
GetDataBack Pro V5.55
Size: 15 MB
Our flagship product GetDataBack Pro is the most powerful Data Recovery software. Lightning fast, for NTFS, FAT, exFAT, EXT, HFS+, and APFS. Recover your lost data now!
GetDataBack Pro: Free demo - Buy Now
Free Updates: Lifetime updates for licensed users.
Price: USD 79
Help file: View GDBPRO.CHM online
System Requirements: 4 GB RAM,
Windows Server 2008, 2012, Vista, Windows 7, Windows 8, Windows 10, 32 or 64-bit
GetDataBack Pro Highlights
Recover ALL your drive's data
Restore file names and directory structure
Safe, read-only design
Intuitive user interface
Lightning fast operation
Supports all hard drives, SSD, flash cards, USB
Native 64-bit application under 64-bit Windows
Recovery of very large drives

New, redesigned and rewritten, using the newest technologies
Supports NTFS, FAT12, FAT16, FAT32, exFAT, EXT, EXT2, EXT3, EXT4, HFS+, APFS
Free to try
Free lifetime updates with purchase
Run GetDataBack from the Runtime Live CD or a WinPE Boot Medium
Redesigned and rewritten
GetDataBack Pro is a completely redesigned and rewritten Data Recovery solution for Windows, Mac, and Linux file systems. Our developers have combined decades of data recovery experience with the newest technologies.
GetDataBack Pro runs as a native 64-bit application under 64-bit Windows. Thus is can take full advantage of the x64 CPU. GetDataBack Pro is now faster and can handle extremely huge drives. Under 32-bit Windows, GetDataBack runs the 32-bit version.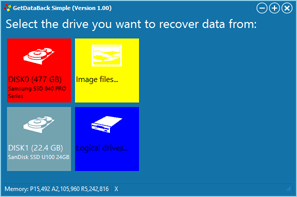 GetDataBack Pro's clean interface guides you to your lost data in no time. You are literally one click away from your files. GetDataBack Pro is the data recovery solution for professionals as well as inexperienced users. Start your data recovery now, no manual to read, no ostentatious options, no kidding.
GetDataBack Pro combines recovery capabilities for NTFS, FAT, exFAT, EXT, HFS+, and APFS. You do not need to find out beforehand which files system your drive was formatted with. GetDataBack Pro's recovery engine internally uses four distinguished sophistication levels that automatically escalate until good results have been achieved.
Free lifetime update promise
GetDataBack comes with free updates for the lifetime of the software. Unlike competitors who require you to buy a new version every year, our first GetDataBack customers from 2001 are still enjoying the newest versions of our software! Customers who bought GetDataBack for FAT, GetDataBack for NTFS, or GetDataBack Simple in the past can use their existing license key for GetDataBack Pro.
GetDataBack is more than an undeleter or a system restore
GetDataBack Pro will recover your data if the hard drive's partition table, boot record, directories, or other system areas are lost or damaged, data was lost due to a virus attack, the drive was formatted or re-partitioned, a power failure has caused a system crash, files were lost due to a software failure, or files were accidentally deleted. GetDataBack Pro can even recover your data when the drive is no longer recognized by it operating system. GetDataBack Pro works on hard drives, SSD, flash card, USB sticks, etc.
Get everything back, the safe, easy, and fast way
Advanced algorithms make sure that all files and directories are put together as they were, and that file names are reconstructed correctly. GetDataBack employs a number of approaches to your data, depending on the actual condition of your drive. Four different escalating sophistication levels ensure your files are recovered.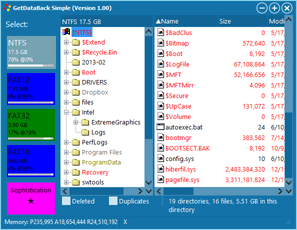 GetDataBack is read-only, meaning the program will not attempt to "fix" or write to the drive you are about to recover.
GetDataBack Pro's user interface is intuitive, it enables even inexperienced users to conduct their own data recovery with just one click.
GetDataBack Pro not only recovers you data. It does it quick. The first sophistication levels recover large drives in seconds or minutes. The speed of copying the recovered data to another medium is similar to the speed of regular file copy operations.
Free to try
Download the trial version and recover your files. You can preview your data to be sure it actually works. If you like the results you do not need run the program again. Purchase the license key and enter it into the open program. Then copy everything you need!
No working Windows?
Run GetDataBack from our Runtime Live CD or a WinPE Boot Medium.
View GDBPRO.CHM online. The official GetDataBack Pro documentation.